The People We Meet Along the Way
Life's Journeys
There are times in life when we must forge our own gateways to happiness, peace, and contentment. As we all continue along on our journeys, we are bound to bump into one another. I could go into this on a deep and cosmic level but ultimately, it is my firm belief that the people we meet along the way are part of our own personal destinies. Have you ever been out and about, seen someone and felt compelled to reach out and just say hi? Does that simple hello bring a smile and then perhaps allow for an entire conversation to begin? This happens to me often – particularly when I am in need of the aforementioned happiness, peace and contentment.
Our life's journeys are such wonderful and interesting adventures. When it comes to whom we are destined to meet, I think perhaps Forrest Gump said it best:
Jenny, I don't know if Momma was right or if, if it's Lieutenant Dan. I don't know if we each have a destiny, or if we're all just floating around accidental-like on a breeze, but I, I think maybe it's both. Maybe both is happening at the same time.
With that said, I would love this opportunity to share with you some wonderful souls I have met along the way:
Jamie and Max
Jamie and his Rottweiler Max boarded my train and immediately I was captivated by this beautiful dog. We got to talking and it turned out Jamie found himself recently homeless but he was working hard to change that. His previous employer closed shop owing Jamie a lot of money for the subcontracting work he performed. He was on his way to see a pro bono lawyer. I really hope he got everything sorted out and was able to get re-established properly. It just goes to show how vulnerable any of us are at any given time.
William
I met William when we were having lunch at a fish and chips shop downtown. William was counting his change trying to determine if he had the right amount to pay for a small lunch. Through someone's generosity, he was able to put his own money back in his pocket and enjoy a full order of fish and chips and a drink. William blessed our day with his presence and I hope also that he too is finding his way okay out there. He told us he was moving into a subsidized apartment and would soon have a job.
Vicente and Danny
A friend of mine and I went on a photo expedition through southern Colorado. Our primary aim was to photograph an old abandoned drive-in theater. I featured an image of that drive-in in my last post. During this trip when we were headed back home, we stumbled upon the small town of Ignacio. It was here I spotted an old run down car and an abandoned gas station. As we took photos, Vicente came up and introduced himself. He was the owner of the property. Well, he and his son Danny. We asked if it was okay to take photos and he said absolutely and walked away.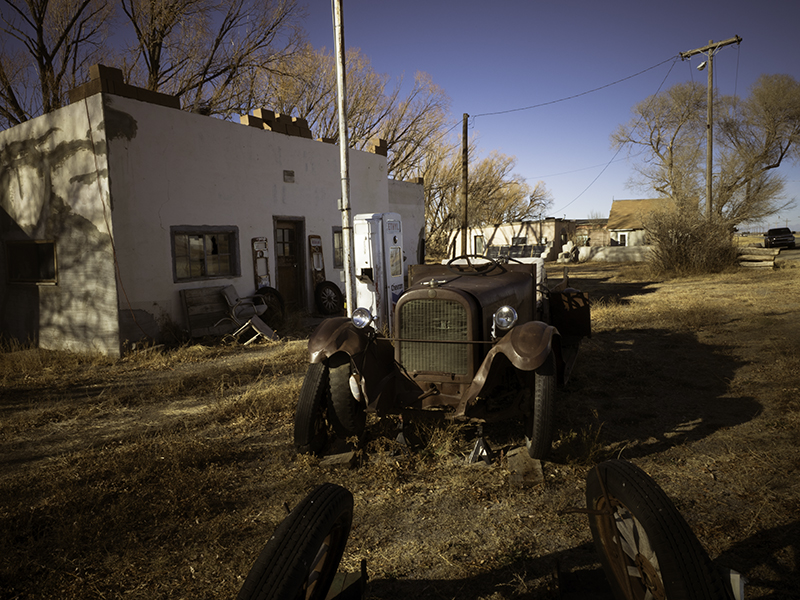 My friend ventured further down from the gas station and was welcomed into Danny's home. I met up with them and Danny let us into the old gas station to take photos of the inside. I was completely moved by both Danny's and Vicente's hospitality. It was our time with them that stood out prominently among the memories of our trip.
Theora
Near a shipping store is a Safeway and in that Safeway is a Starbucks. I love to go in and treat myself to one of their unsweetened green teas when I am in the area. This day, I was struggling emotionally thanks to all the doom and gloom news I was absorbing at an incredibly rapid pace. This beautiful young lady came up quietly behind me and when I turned around she greeted me with a smile and offered a quiet hello. I said hello back and then I asked how her day was going. We then talked a bit and then it was my turn to order. I ordered my drink and treated Theora to the drink of her choice. Once I had my drink, I left but because the barista added sweetener, I went back to exchange it for a version that was unsweetened. I have to say I am so happy for this mistake.
Outside of Safeway in the freezing cold, Theora and I talked more and I will share with you some of the words she shared that blessed my day:
I like to keep a journal of everything I am thankful for. Being kind is a natural way to be. Today is another day of gratitude. Everyday there's something to be grateful for but some days it's more powerful. I have been very blessed in life by all I have received. In philosophy, and this has stuck with me for years, and it's true because I tested it on myself. Do not expect or have expectations. For, if one does not, they are not disappointed and they can enjoy many, many surprises. You will never be disappointed because whatever happens you can be pleasantly surprised.
With that, I shall close for now. I sincerely hope you have enjoyed this post. If you have ever had an experience when you were out and about that subsequently led to an amazing conversation with a "stranger" I would love it if you could share that experience in the comments below. Thank you for reading and commenting.
Until next time, many blessings and nothing but the best always,
Benny