The Joys of Simple Pleasures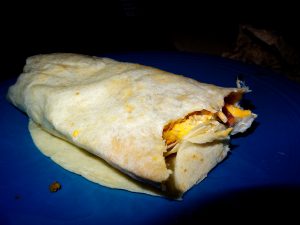 You may be wondering why exactly I am sharing my lunch with you. At the time I began writing this post, I had just returned from picking up some film after being developed. Yes, that's right, actual film from a manual camera but more on that later. After picking up the film, I went to Starbucks to get my favorite – trente unsweetened green tea with a touch of honey and then Del Taco to get their epic steak & potato burrito.
The Del Taco Eating Experience
After I got home, I had to get back to work so I heated the burrito quickly and brought it upstairs to my office to be enjoyed. I had a taco as well and because I am very much a save the best for last type of individual, I ate the burrito last. I took a bite and the taste was heavenly. I know it is fast food but I don't eat this type of food much these days as I am trying my best to get my weight down to a number my endocrinologist will be most happy with. I have been very disciplined lately and it is paying off. I was in such a giddy mood after picking up the photos, I thought okay, let's have a bit of a treat.
This burrito was amazing. Yes, I know, it's Del Taco but with each bite, so many flavors hit my palette all at once. First the tangy, velvety sour cream, then the smoky, prepared just right so it was not overly crunchy but more on the chewy side bacon, the sharp cheddar, the carne asada steak, the lettuce, the potatoes, the Del Taco hot sauce and the soft tortilla all came together beautifully to form the perfect bite. I took my time eating the burrito allowing each flavor to be enjoyed individually and collectively. I even put on some good eating music. My choice? "O-o-h Child" by The Five Stairsteps. This song actually brings tears to my eyes each time I hear it so this was really the perfect choice to go with such a moment of perfect happiness and perfect contentment.
The Simple Things in Life
Happiness, joy, contentment, bliss and harmony with one's existence. These may seem like outdated terms perhaps associated with the flower children of the sixties. Today, if you go on about such things you are automatically labeled as one with your head in the clouds and out of touch with reality. But, what is reality? Each day we navigate through an endless stream of duties all balanced by careful decision making which ultimately leads to how we spend our time. Time – the most precious commodity on the planet and yet, with the amount of time given, we oft forget to consciously enjoy the time we have. Labored by a sense of obligation, anything joyful is put on the back burner to be savored for a more appropriate…time.

Our hours, days, weeks months and years roaming around on this planet are finite. You never know when your time may be over. I have been more conscious of this lately and intentionally incorporating simple activities that bring joy into each passing day. For me, I love the taste of a Del Taco burrito, listening to the scratchy sound of a vinyl record, allowing a chocolate chip cookie to melt in my mouth, inhaling the glorious aromas of flowers, turning my head toward the falling snow or rain as it sweeps across my face, writing something knowing very few will ever read it and last but certainly not least, taking photographs. This leads me back to where we were at the beginning of this article.
The Joy of Analog Photography
For nearly two decades I have been taking photographs digitally. The digital camera is a remarkable device that can do most of the hard work for you when taking a photograph — if you want it to. With the camera's internal mechanisms working their sorcery and keeping track of such cumbersome things as ISO, fstop, exposure and light, you can just point the device at your target and snap away. While this is very convenient and easy, something important tends to get lost when you aren't taking the time to do all these things yourself. If you end up with a beautiful photograph, the experience seems much more rewarding when you had to take your time and ensure every little thing was just right before pressing the shutter release.
Inspired by a good friend, I opted to purchase a manual, analog camera – The Nikon FM2. Recently, he traveled from England to come visit which in itself was a blessing. After he arrived, we hit the road on a photo expedition and I had the opportunity to test it out. During our journey, I was very careful as to what shots I took because film is expensive and so is processing it. It wasn't until recently that I finally used up the film during a trip to the botanic gardens. Very excited, I dropped off the film on a Sunday and then I got the call on Thursday that the film was ready. "Did any of the photos turn out? They did! I'll be down soon to pick them up!"
Time to Pick Up the Photos
When I arrived at the camera store, so many memories came flooding back. After finishing a roll of film, you are left with all the inevitable questions. Did they turn out? Did I get the settings right? You then turn in the film and you wait. You then get the call and you arrive at the store and give them your name. The photos are fished out and the envelope is handed to you. In this instance, I opted to not have the photographs printed as this would have added to the cost. The clerk handed me an envelope with a contact sheet and a CD of all the images. I started giggling as I paid and before I could get out of the store, I opened the envelope to have a cursory look at the contact sheet. For a few moments, I was overcome by perfect happiness. All those nagging self-doubts of whether I focused or set the exposure correctly were put to rest. I could tell immediately that most of the images came out beautifully. When I got to the car I paused for a moment and closed my eyes. A newly rediscovered simple pleasure had just been realized.
Here is the last photo I took on the first roll of film on this wonderful, beautiful camera. I hope you have enjoyed this post. I welcome your comments and I encourage you to please share any and all things that bring YOU joy. Thank you for reading and many blessings.
More photos taken during our photo expedition: