Inspired by the Jeopardy! Potpourri Category
Hello everyone! It's been a while hasn't it? 🙂 I think I officially fail as a successful blogger (I hope not, but still) as I am rather certain one of the cardinal rules is to always keep your blog up to date. OOPS! That's okay, I'm here now. So, first, as always from my heart, to everyone old and new reading my musings, welcome, I am so glad you are here!
I needed a bit of a segue to get back into the habit of writing again so I thought what better way than to create a short but sweet post of miscellany. As I type, I kind of like this idea of creating potpourri style posts. It reminds me of the Jeopardy! category so many of us have come to know and love. For example, this answer was from last season I believe:
Devil's Tower in the northeast of this state was the USA's first designated national monument.
Without looking it up, does anyone know the answer? I am rather partial to the question for this Jeopardy! clue because it's where I grew up!
So, it is now time to begin.
Bianca Marais Has a New Book!
It has been nearly two years since I wrote my Love Knows No Color post. In this post, I shared with you my thoughts on Bianca Marais's book Hum If You Don't Know the Words. In that book, Bianca crafts a tail of how unlikely friendships can transcend pain which in turn allows love to prevail. Bianca's words not only inspire but also remind us that it is okay to confront that which makes us uncomfortable. Topics of racism, homophobia and the like are never pleasant but nevertheless need to be discussed. Fear and ignorance lead to hate so it is always my hope that we can evolve beyond such negative emotions. It is because of this that I love how Bianca can weave such amazing stories. She illustrates how we are all interdependent of each other. No matter our racial background, love can ultimately triumph over everything. Because it is always my aim to lift up those who are part of my little community of followers, I wanted to let you all know that Bianca has published what is sure another inspiring novel.
The name of her new novel is If You Want to Make God Laugh.

About the Book
Here is a snippet from the publisher's page:
About If You Want to Make God Laugh

From the author of the beloved Hum If You Don't Know the Words comes a rich, unforgettable story of three unique women in post-Apartheid South Africa who are brought together in their darkest time and discover the ways that love can transcend the strictest of boundaries.

In a squatter camp on the outskirts of Johannesburg, seventeen-year-old Zodwa lives in desperate poverty, under the shadowy threat of a civil war and a growing AIDS epidemic. Eight months pregnant, Zodwa carefully guards secrets that jeopardize her life.

Across the country, wealthy socialite Ruth appears to have everything her heart desires, but it's what she can't have that leads to her breakdown. Meanwhile, in Zaire, a disgraced former nun, Delilah, grapples with a past that refuses to stay buried. When these personal crises send both middle-aged women back to their rural hometown to heal, the discovery of an abandoned newborn baby upends everything, challenging their lifelong beliefs about race, motherhood, and the power of the past.

As the mystery surrounding the infant grows, the complicated lives of Zodwa, Ruth, and Delilah become inextricably linked. What follows is a mesmerizing look at family and identity that asks: How far will the human heart go to protect itself and the ones it loves?
This novel has already received a great deal of praise and I feel blessed to now have this book in my collection. Thank you Bianca for providing the world with yet another incredible book.
Alaskan Tapes Has a New Album Available for Preorder!
As mentioned in my last post, when I need music for meditation, relaxation or writing, I always shuffle songs by Alaskan Tapes. I am listening to them now. With each note of each song, I take a journey to a most coveted place of quiet and stillness.
I am pleased to share that you can now preorder their new album Views From Sixteen Stories now. You can choose from several different bundles: vinyl, vinyl and limited edition t-shirt, limited edition CD and t-shirt, just the t-shirt or just the digital album. I opted for the t-shirt bundle. 🙂 You can preview three tracks now. Have a listen. The music is, as always so wonderfully peaceful. Thank you!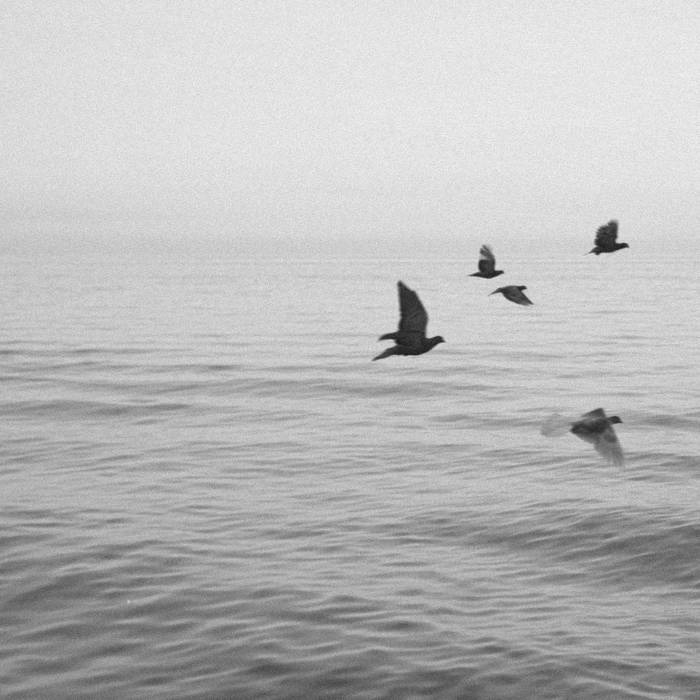 American Stories by Daniel Klein and Mirra Fine at The Perennial Plate
As I share news from those that follow my blog, you may have noticed a theme. I have stated before that the purpose of my blog is to promote the ideal philosophies of compassion, caring and kindness, supporting inclusion as opposed to exclusion and overall simply trying to spread messages of love. I love uncovering new sources of inspiration.
You may recall a previous post — Promoting an Idea — where I featured and promoted Daniel and Mirra's Kickstarter campaign. As you can see in the right sidebar, the campaign was successful and the films they have created are beautiful. This film titled "America: Also My Home" is very moving. Wherever you stand regarding immigration, I am hoping you might take a couple moments to watch not only this film but the others in the series.
The topic of immigration, immigrants and what to do with people who want to come to the United States is a VERY charged topic right now. Daniel and Mirra provide a very loving and caring portrayal of the human beings behind the issue. Thank you to you both.
Image from another one of the films: "Love Thy Neighbor"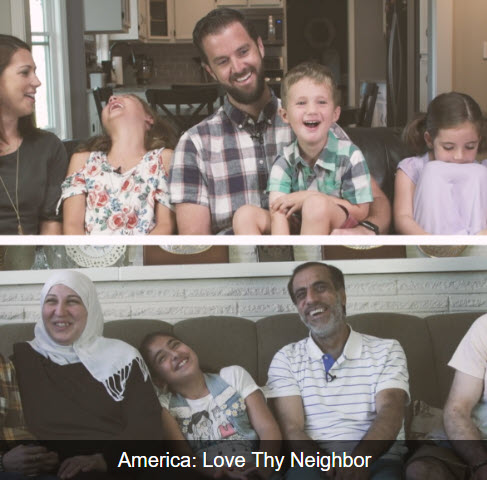 Final Thoughts
I am now thinking about all the people I have come to know since beginning this blog. Daniel and Mirra from the Perennial plate representing kindness and generosity with everything they create. Alaskan Tapes who have the amazing ability to create such beautiful, peaceful and inspiring music. The nephew of costume maker Ben Cooper to whom I am eternally grateful for being the one to originally validate my ideas and hopes for this blog over a decade ago. The very talented author Bianca Marais who can weave such beautiful stories around very sensitive topics wonderfully. So many more….. so many more.
I wanted to ensure I didn't forget anyone so I started searching through my posts. I am a bit teary-eyed right now as I realize just how blessed I truly am. So many words have been created and shared via this blog and ultimately I really do pray they inspire those who take the time to read my heartfelt posts, if even just a little. In closing, I would like to bring attention to a post which has prompted such an emotional reaction: The People We Meet Along the Way. Nothing could surmise what I wanted to convey in this first of many Potpourri style posts more. I hope you take a few extra minutes to read that particular post. When I see those photos I cannot help but cry as the words and the imagery represent very special moments in time during my life journeys so far.
I thank you all SO kindly, sincerely and humbly for being here, reading my words, being patient with me when I am absent and for always coming back again faithfully. THANK YOU!
Our life's journeys are such wonderful and interesting adventures, particularly when it comes to whom we are destined to meet along the way.
Please be sure to leave a comment if you know the answer to the Jeopardy! clue!