Thoughts of Halloween 2009: Daffy Apples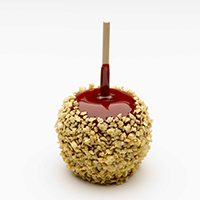 Before the store displays are monopolized by Halloween candy, decorations and costumes, a welcome treat magically appears in the produce section of various Rocky Mountain super markets – Daffy Apples! These are not your ordinary caramel apples. First, they do not use peanuts but instead the outside is sprinkled with a crunchy, candy topping that accentuates the gooey red caramel topping and the sweet tartness of the granny smith apple perfectly. As you bite into this Halloween treat of treats your tongue is always trying to envelope every single millimeter of the heavenly red, gooey caramel. A torent of memoris of childhood come flooding back. I can honestly say that these little sticks of heaven were far superior than any trick-or-treat candy I may have received.
Halloween marks the start of the holiday season and as the months of October, November and December melt into each other, many of us crave an array of  comfort foods that evoke a memory, feeling or emotion from days past. Every single Halloween, my mom would always have Daffy Apples in the pantry. Because we were only allowed two or three for the entire month, these were very special treats. I would savor every bite and even went through the trouble of taking tiny nibbles until I got to the absolute edge of the core. I knew that once Halloween was over, the Daffy Apples would be gone for another year.
As I write this, I am currently living in Arizona. Because Daffy Apples are only sold in various Rocky Mountain stores, I have to settle for standard caramel apples with peanuts. While good, they lack the finer details that make the Daffy Apple a true taste sensation. If ever there was a treat that could excite the taste buds into a frenzy, Daffy Apples would certainly be it. The apples are slightly tart but not sour, the red topping sets off the taste of the apple perfectly and that crunchy candy coating adds the final movement in a symphony of unique taste and texture. I am happy to say that I am moving back to Denver in three short days. While setting up our new home, the obligatory trip to the supermarket is in order. I can visualize the produce aisle end cap of Daffy Apples now beckoning like a long lost friend. A couple packages will take pride in place in the top area of the shopping basket.

For those that don't live in the Rocky Mountain region and have yet to experience this one of a kind taste sensation, I have good news for you. You can order Daffy Apples online! December 18th is the last shipment date in 2009 but they will resume shipping again mid-January 2010! If you live in the Rocky Mountain region, don't delay, head to King Soopers, Safeway, City Market or Albertsons and pick up a package or two. Alternatively head over to the Daffy Apple website and do some shopping.  Enjoy!