Thoughts of Christmas 2016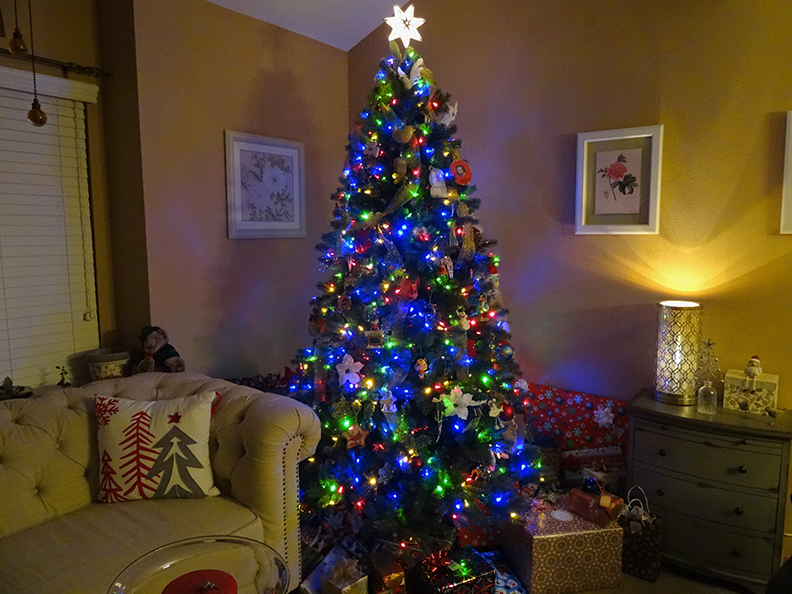 Suspended in Time
Thinking of Darla
24 December 2016
The elevator whisked me away from the parking lot platform to the sky bridge leading to the train platform. My train station is directly opposite an expansive shopping mall. It was not quite 10:00 on Christmas Eve so the stores were just preparing to open. I had time before my train arrived so I stopped to observe the little ant sized cars shuffling into the parking lot filling it neatly in orderly rows. Shoppers were hurling themselves toward the various entrances hoping to catch a bargain perhaps as a reward for putting off their Christmas shopping until the last minute – assuming of course that is what these people were doing, I mean some just like to go to the mall don't they?
I knew my train would be arriving soon so I made my way to the lonely platform. I almost did not board. I was heading downtown more out of compulsion and perhaps a sense of obligation rather than desire. At home, I had a warm house, plenty of good food to eat, peace, quiet, tranquility and a sense of accomplishment as everything I wanted to get done for Christmas was indeed finished. And, yet, despite all this, I felt I needed to do more.
I have so much (I am not rich by any stretch of the imagination so when I say this I mean I have a house, a car, plenty of clothing and plenty of food to eat) and this overabundance leaves me feeling guilty most of my time. The guilt is so rampant at times that I find it difficult to enjoy what I do have because I know there are so many that have significantly less, if anything at all. For some, having four walls, a roof, running hot water, electricity and food in the cupboards and fridge would be among their strongest desires. While others – thinking back to the little ants at the mall – the yearning for yet one more gadget, one more outfit, one more this or one more that seems to take priority.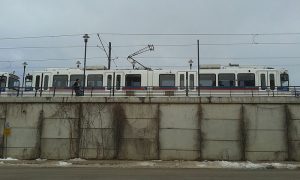 The clackety-clack of the train edged its way toward downtown and sent me into a bit of a reverie. I was beginning to feel good about my decision to go out and about this unseasonably warm day. I already had visions of what I would do. It involved cups of coffee and sandwiches and I then started wondering what shops would actually be open. "Pepsi Center / Elitch Gardens" was announced over the intercom and the next stop was Union Station.
I alighted the train into bright, warm sunshine. Though I only had on a light pullover, I was already hot. It certainly did not feel like Christmas and as I walked down the pedestrian mall of Denver, it too seemed void of that atypical, stereotypical Christmas feeling. There were more beggars than normal which was certainly very expected as passers-by tend to give more during Christmas.
INTERLUDE: There are plenty of songs out there which profess the desire for Christmas to occur every day. While I would not want all the unique aspects to remain year round such as the decorations, music, grotesque spending or the incessant number of Christmas-oriented ads begging for our hard-earned money, I would love it if we humans could hold onto that Christmas feeling of kindness and generosity year round.
Despite the heat I went about my self–prescribed tasks. This is when I met Darla. Do you all remember that song "Just Another Day in Paradise" by Phil Collins and the line about a homeless woman being embarrassed to be there? Well, Darla (not her real name) reminded me of that song. An elderly woman graced with the kindest face, wrapped up in a soft blue jacket, a knitted burgundy shall, a knitted soft blue hat and a blanket on her lap held up a simple sign asking for help in whatever form. Someone had already brought her half a hamburger. I've done this in the past as well but recently I tend more toward fresh, hot food purchased especially for someone in need. All people love hot fresh food prepared specifically for them and because the homeless still fall into the category of people, they are no exception.
Starbucks has some of the best breakfast sandwiches and when I feel like indulging I love to grab one to enjoy with their unsweetened green tea. On this day, this simple little sandwich baked hot from a coffee shop would bring a smile to Darla's face. Embraced by her gratitude, I reached out to touch her hand and wished her a Merry Christmas and started to walk away. I was then reminded by my own words presented here on this blog in posts past.
We can offer our time, our kindness, our words and our compassion.
I turned around to give Darla some of my time. I had to know that she had somewhere safe to stay and thankfully, she did. I could tell she really wanted to eat her hot breakfast sandwich so I placed my hand on hers and again wished her a Merry Christmas. It was my own personal Christmas wish that Darla would one day find a way to get off the streets and be blessed with all the things so many of us take for granted.
Christmas Day
I dragged myself downstairs reminiscent of the dad on Christmas Story, and was met with shrills of joy as an excited 11-year old was preparing for his vision of Christmas to begin. All I needed to say was go ahead and paper was ripped unceremoniously and scattered to all four corners of the living room. To be fair, for the most part, my son is very good about tidiness and he helped organize the paper and boxes for recycling. Despite months of preparation, the event itself ended in a matter of minutes and beyond the thank you's, the hugs and the exclamations of joy, there was a stillness.
With this opportunity I entered the kitchen laced with aromas of baked delights and coffee, grabbed a piece of hot cherry pastry, – diabetes be damned – and returned to the living room to sit on the couch as my son deliberated on what to play with first. It was sunny outside and though many around the country were experiencing a white Christmas, it seemed we would not be so lucky. I stared at the beautiful tree now bereft of gifts. I then noticed near the coffee table a tiny remnant of wrapping paper. I grabbed it and stared at it and then the tree and then all around the house. The material side of Christmas was fading but I vowed to allow the spiritual side to remain and be called upon throughout all days yet to come. I sat for a while more to revel in this day and all days. The house seemed to grow darker and cozier. I rose to get some tea and glanced outside. The day had transformed completely. Dark clouds had moved in and they gracefully opened up allowing for a light snow to fall.
Image Credits:
Main photo of tree by author
Lightrail photo courtesy of Wikimedia Commons
Snowfall by author