With a Little Help from My friends
A writing topic to be used with my permission for the upcoming eBook
The Insecure Writer's Support Group Guide to Publishing and Beyond!
By Benny Hill Freelance Writer and Blogger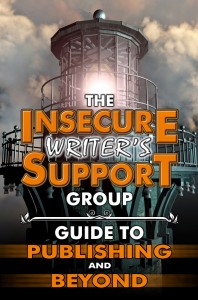 Dear Friends,
I am taking a break from my usual by presenting this special post for a group I joined today. This incarnation will actually be take three of this post and quite a clear indication of why I would join a group titled "Insecure Writer's Support Group". Though an overused cliché the fact that I am my own worst critic is definitely holding true this evening. Perhaps the third time will indeed be the charm as I attempt to dispense my thoughts on what helps me as a writer.
Friends
As simplistic as it appears, cultivating friendships within the vast, wondrous realms of writing is what keeps me trudging forward. I came to the realization long ago that to write is not necessarily to seek fame or wealth but to send forth into the world a collection of words that may be read and appreciated by another. (A bit like Charles Ingalls and his furniture but different) In the end, all we as writers could ever really hope for is that somewhere in the midst of our musings, someone, somewhere reads and enjoys our creations. I am blessed that these someone's over the years have become my friends and it is through their encouragement, kindness and compassion that I continue to write today.
I recall my very first blog entry which fondly enough will be republished here in a couple days. It was an article on my thoughts of Halloween 2005. The sentimentality of simpler days guided me and I wrote in detail of my trick or treating adventures dressing in Ben Cooper costumes. To my surprise, the nephew of Ben Cooper found my post and left thoughtful and kind comments. I consider that moment to be one of the greater successes in my writing career. I wrote something and made a connection with another person who enjoyed what I wrote. To this day, I am so proud to say that I still keep in touch with Ira Cooper and am proud to call him friend.
In recent years I created a post titled "To Kill a Chicken". Once again, this post was discovered and wonderful comments were left and I made yet another friend – Jared Guilan, an ex-pat living in New Zealand running an olive farm. Recently, exasperated by my writing seemingly going nowhere, I reached out to him and he recounted his own personal story of becoming a writer and his kind, thoughtful words will forever stick with me and inspire me to keep going and not give up.
Friends
Once upon a time, I actually got paid to write garden articles and met a wonderful soul by the name of Sharon Brown who still today takes time out of her busy schedule to not only edit my work but offer encouragement and advice when I need it most. Again, it is with kindnesses such as these that inspire me to keep going and not give up.
Ira, Jared (author of the book "Moon Over Martinborough"), Sharon, Eve Searle (co-author of "Tomorrow Will be Better"), Richard Lawrence Cohen (author of "Only What Is and an absolute must have for any writer "Writer's Mind Crafting Fiction"), Carrie Abels (Editor of "Vermont's Local Banquet"), Rosa Sophia (author of "When I Dream of You" and more) and many others are all friends who are writers I have met along the way who have in one way or another supported my writing, offered encouragement when I needed it most and continually inspire me to keep writing. Today I joined this Insecure Writer's Support Group and it is with continued hope to meet even more friends that will inevitably inspire, encourage, support and assist in my efforts to get my collection of words out there into the vastness of the universe. I may not become famous but perhaps one day in the future, someone somewhere will read something I have written and appreciate the words I have set forth. Words I could not have created without a little help from my friends. (You have the Beatles song stuck in your head now don't you?) 🙂
I wish to offer special thanks to Joanne Livingstone for reading every single piece of writing I have ever created.