Hello everyone and welcome. We are nearing the end of the year and for many, said end cannot come soon enough. We have been presented with the challenges of a rampaging virus, slowing economy, job loss and the list goes on. As such, I have lacked the inspiration to write anything. Each time I tried to write, the words never really came together to represent anything meaningful.
This past weekend has been one of joy and sadness. Yesterday, I learned that Alex Trebek, host of Jeopardy! passed away peacefully after battling pancreatic cancer. Though I did not know him personally, Alex Trebek's death affected me deeply.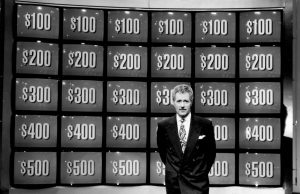 A Man of Grace
I do not watch a lot of television as I find the majority of programming mind numbing. I love most of what PBS has to offer (Nature, NOVA, etc.) but beyond that the one show I religiously watch is Jeopardy! For me, Jeopardy! offers an opportunity to learn but most of all, it is Alex Trebek's presence and demeanor that I find so inspiring. I have watched interviews with him on shows like CBS Sunday Morning and he was the very example of kindness, dignity, grace, humility and soul. He was the very man I aspire to be.
Alex Trebek hosted Jeopardy! for 37 years. Even after that incredible amount of time, his passion for the job never diminished. He loved matches that were close and often said as much. He took extreme delight in the excitement that comes with the Tournament of Champions. It was this excitement that permeated into our living room.
Thank You!
When trying to think of the appropriate words to say thank you to a man who has provided so much to the world, I could not think of anything better than what Ken Jennings said:
Alex wasn't just the best ever at what he did. He was also a lovely and deeply decent man, and I'm grateful for every minute I got to spend with him. pic.twitter.com/CdHCcbqmp2

— Ken Jennings (@KenJennings) November 8, 2020
Alex wasn't just the best ever at what he did. He was also a lovely and deeply decent man, and I'm grateful for every minute I got to spend with him.
Looking Forward
We are now entering the second week of November. In just over two weeks, it will be Thanksgiving in the United States. Some might not have a lot to be thankful for and that is understandable. There has been an incredible upheaval all over the world as COVID-19 continues its rampage. The United States seems to be firmly divided. Scores of people are without work. The loss of life due to the virus mounts daily. Many have lost their homes due to fires, floods, hurricane and tornado damage. We are all facing immense challenges. What do we do?
Humans are a resilient species and we have the ability to overcome if we can find a way to just work together, help one another, be kind to one another, lift up instead of tear down and find something, anything that provides joy.
Jeopardy! is and will always be one of my joys.
I want to thank each and every person who takes the time to read this blog. Welcome subscribers old and new; I feel blessed by your presence. May every person on the planet have some semblance of a joyous holiday season. For those that are affected by tragedy, I wish for you peace and a better tomorrow.