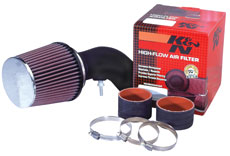 So your cars service is due and you need to replace your air filter. You are thinking of replacing it with a performance filter, but with an ever increasing range of performance air filters, intakes and induction kits on the market today, how do you know which is right for you?
When looking at purchasing an air intake system for your car you have three main types of filter to choose from:
Replacement Elements
Induction Kits
Closed Air Intakes
These three types of filter each have their advantages and disadvantages.
Panel filters or replacement elements are a direct replacement for the vehicles standard OEM air filter. They have very little advantages over an OEM filter, however most brands of aftermarket filter, particular K&N, are washable so you will never have to buy another one. You simply clean it with a special cleaning kit and off you go for another ten thousand miles or so.
Induction kits and air intakes all work on the same principle; get more oxygen into the engine, get more power out. It is basic physics; more oxygen means a more aggressive ignition of the air / fuel mixture in the compression chamber which drives the piston faster, hence generating more power.
Induction kits remove the bulky and restrictive air box assembly and replace it with a cone filter. These usually use either cotton like the K&N 57i kits and the large range of Green induction kits, or foam like the Pipercross PK induction kits, as the filtration medium. These offer increased air flow compared to the OEM setup. The advantages of fitting an induction kit are more power (usually 1-2% although some vehicles show 5% and above), better acceleration and improved fuel economy. They also give a deep throaty induction noise, particular noticeable when you accelerate hard. 1-2% power increase isn't going to make much difference to your car, however the car will feel more responsive, and pickup when you first accelerate will be quicker which will make the car feel much more enjoyable to drive.
Some induction kits are known as Cold Air Intakes (CAI). These are still induction kits although they are specially designed to locate the filter away from the hot air around the engine, and in the path of cold air. The theory here is that the colder the air, the denser it is and hence the more oxygen there is. CAI kits tend to have more pipe work as the filters are further from the engine, and this often makes them more expensive.
Closed air intakes, or enclosed induction kits solve the problem of heat soak (where intakes suck in hot air from around the engine causing a loss in power) by sealing the air filter inside a heat resistant enclosure. This is similar to the OEM air box, but instead uses a high flow cone encased in a housing which is designed specifically to smooth and speed air flow into the engine. The result is more, colder air. The closed intakes like the famous BMC CDA kits, and more recently the K&N Apollo and Pipercross Viper kits, do tend to offer the highest power increases compared to normal induction kits. They are however usually quieter due to the filter not being open so you don't get such a loud induction noise from the engine.
So which intake type do you choose? If you are just after a quality version of what you have, but are not after sporty noises or increased power, then a replacement element is the way to go. They usually cost only marginally more than the OEM filter (and sometimes less), and you won't have to buy another one, ever. K&N, Green and Pipercross all offer great replacement element air filters.
If you don't want to spend a fortune, but want to improve the sound of your car and get a little more enjoyment out of driving, then an induction kit would be ideal. The K&N 57i kit is always a very popular choice, and their quality is excellent. The expanding range of K&N Typhoon kits (CAI) are fantastic if your budget can stretch to them.
Finally, if you are serious about getting the most from your engine, and you are happy to spend the money on a quality kit, then an enclosed induction kit will be the best choice. Check out the BMC CDA if you don't mind a bit of effort to get it to fit, or the K&N Apollo if you want a kit that will come with everything you need to install it, and great photographed instructions to walk you through the installation process.
The most important thing to remember when buying an air filter or induction kit, is that this is going to filter what goes into your engine. If the intake doesn't filter well and lets in dirt and grime, you will soon have problems and ultimately engine failure. It is vital that you choose a quality brand; we recommend either K&N, Green, Pipercross, BMC or BLITZ as being among the best. Do not buy budget air filters. The small saving at the time of purchase could cost you a lot more in the long run.